The Standard Bilge water deoiler is consisting of the two stages Coalescer Profile Pack "SPO" and Coalescer Elements "SCO", which are installed one behind the other. This provides a reliable separation and cleaning of wasted bilge waters as well as industrial waters.
Function & design: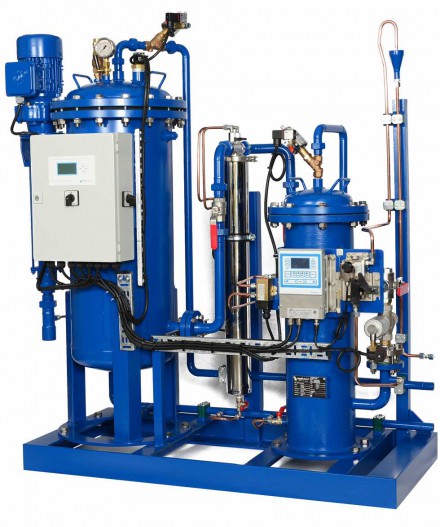 In the first stage of the system oil drops are combined to bigger oil drops by an optimized coalescence and are ascending into the oil dome due to the density difference between water and oil, where the oil is being discharged automatically.
At the same time dirt and particles in the medium are being separated by gravity into the lower sludge chamber.
In the second stage the remaining smallest oil drops, in the most times the special fiber bed of the installed coalescer elements separates mechanical stable emulsions.
This two-stage combination of SPO profiles and the SCO elements fully complies with national and international regulations and laws.
Intermediate filter can be integrated between 1st. and 2nd. stage for reduction of soot and suspended matters.
These de-oiling systems are operating fully automatically and supplied completely mounted, wired and piped on a base frame. Oil-in-Water-Monitor, fittings, valves and automation complete it to a "Plug- & Play" unit for the customer, ready for installation. Apart from standard units, customized solutions in special design are also always possible.
Approval
IMO MEPC. 107(49) – 15 PPM
USCG 46 CFR – 15 PPM
DNV No. 2.9 Approval Programs No. 771.60 – 5 PPM
Advantages of Sepflutech De-oiling Systems:
Full automatic operation without supervision necessity;
Compact and robust design;
Highly efficient and reliable separation performance even at difficult up steam load;
No chemicals or other substances necessary.
Available in following sizes / capacities:
Type SDU-0.25 Capacity 0.25m³/h
Type SDU-0.5 Capacity 0.5m³/h
Type SDU-1 Capacity 1.0m³/h
Type SDU-2.5 Capacity 2.5m³/h
Type SDU-5 Capacity 5.0m³/h
Type SDU-10 Capacity 10.0m³/h