SFT Fuel Treatment Systems are used for all middle distillates (like MGO, DMA, and DMX). Typical contaminations like solids and water are separated very efficiently.
Function & design: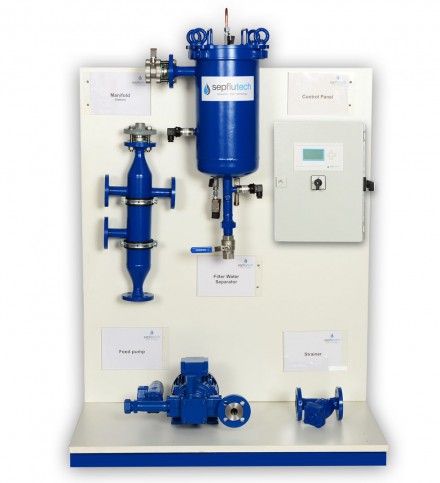 Our systems are designed modular. In the standard module, a filter coalescer element is used, depending on the requirement of the customer and depending on the grade of contamination of the liquid. If a higher grade of purity is needed a wide variety of elements and filter modules is available.
The systems can be supplied completely mounted on a frame or as single components , always including the feed pump and the control panel.
Advantages of the treatment systems:
Flexible design
Single module with combined filtration and water separation
Compact and solid design, even for high flow rates
Highly efficient and reliable separation performance
Easy plug- & play installation , low maintenance necessity
The Sepflutech systems are running very reliable with low operation cost and are easy to operate in comparison to other alternative systems like Centrifuges, Activated Carbon Systems etc.
Available in following sizes / capacities:
SFT-250 flow rate 250l/h
SFT-700 flow rate 700l/h
SFT-1500 flow rate  1.500l/h
SFT-2500 flow rate  2.500l/h
SFT-4500 flow rate  4.500l/h
Other sizes / flow rates upon request